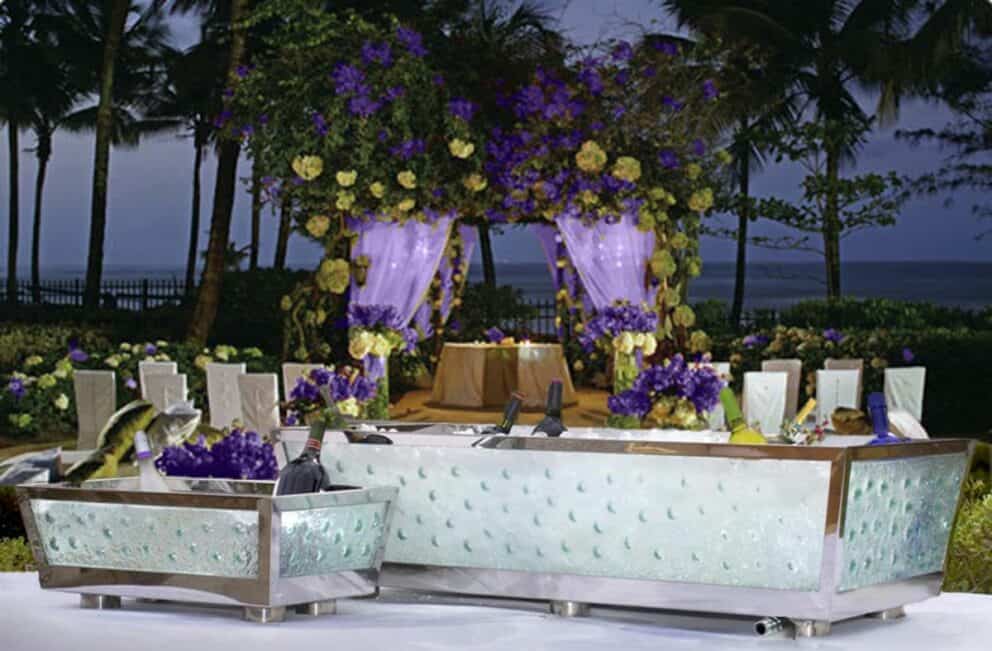 Introducing Isinglass Designs!
For nearly two decades, Isinglass, Inc has been a stalwart provider of fine furnishings and displayware for the hospitality industry. However, it's no surprise that the market has changed, especially over the last two years. Because our goal is always to best serve our customers, Isinglass is changing with it. To that end, we at Isinglass are delighted to announce our rebrand as Isinglass Designs. You'll be sure to notice our new look (and our new name) but it's more than just a facelift.

As co-founder Gail Poe puts it:
The economic challenges wrought by the Covid-19 pandemic have severely impacted our country and businesses large and small across the nation. We are no exception. Though the problems have been daunting, we see and feel a rising optimism and hope taking hold. From the beginning, we tried to focus on the future – to see beyond the pandemic and envision what could be next for us. We used much of that time to take stock, to redirect our thought processes, and to find innovative ways to navigate these uncharted waters. We made quite a few changes to Isinglass, with one goal in mind – you, our customer. We will continue to invest the lessons learned back into our plans and strategies for Isinglass Designs to continually better your experience as a customer.

While we've made some big changes to Isinglass, at our core we remain the family-owned, American-made company with an ironclad reputation for creating some of the highest quality, most durable products in the industry, comprised of people with a heart for serving you. Here's a snapshot of what you can expect from Isinglass Designs.

What's new:
More customization options: While we've always offered customized and bespoke pieces, Isinglass Designs has expanded those options immensely. We have worked with our suppliers and manufacturers to grow our available range of materials, finishes, and designs to create a customization process that allows for the greatest flexibility possible. That means you have more control over your designs than ever before.
Expanded selection: Interior design trends are always changing and that's why Isinglass Designs has worked to expand our selection so that you can find exactly what you need to bring your designs to life. Whether you're looking for traditional styles, something ultra-modern, or are aiming for somewhere in-between, our wider selection and customization options mean that you can find the perfect pieces for you without worry—every piece is still made from the highest quality materials and are designed to withstand the rigors of the hospitality industry for years to come.
Faster production and delivery: What's better than customized furniture and displayware that's durable, versatile, and beautiful? Getting it faster than ever before. We have worked to streamline the process with our suppliers, manufacturers, and craftspeople to ensure that you can go from selecting materials to enjoying your products as quickly as possible.
The things that will never change:
Unrivaled quality: Beautiful designs and nearly-endless customization opportunities don't mean much if the end-result is anything less than the best. Isinglass Designs uses only the highest-quality materials for thoughtfully designed pieces that can do the work. You never have to sacrifice form for function, or vice versa, at Isinglass Designs.
Versatility and innovation: Design tastes change and so do the needs of the hospitality, tourism, and restaurant industries. That's why Isinglass Designs takes great pride in working with our customers to develop the exact products they need, while also working with industry professionals to anticipate coming trends. Isinglass was among the first suppliers to offer linenless banquet tables and we remain on the leading edge of the industry with our inspired designs that are beautiful, versatile, and made to last through years of heavy use.
Unparalleled customer service: Investing in commercial-grade furniture and displayware is a big commitment and at Isinglass Designs, we have built our reputation on helping our customers through this process and ensuring that their needs are fully met. As a family-owned business, we value integrity and service at all levels of the process. That means several things to us. First, it means working closely with our customers to ensure their satisfaction. Second, it means investing in our communities by working with suppliers, manufacturers, and craftspeople in the United States. Finally, it means going the extra mile. Sometimes that looks like co-founder and CEO Wayne Poe dropping everything to road trip an extra tabletop to a customer who's realized they don't have the color they need for an event the next day. Sometimes that looks like Gail working all night to make sure a customer has all the design options they need to meet a deadline that's been moved up. At Isinglass Designs, we are a family, and that includes everyone involved in the process.
Stay tuned for more exciting news from Isinglass Designs!
Let's keep in touch!