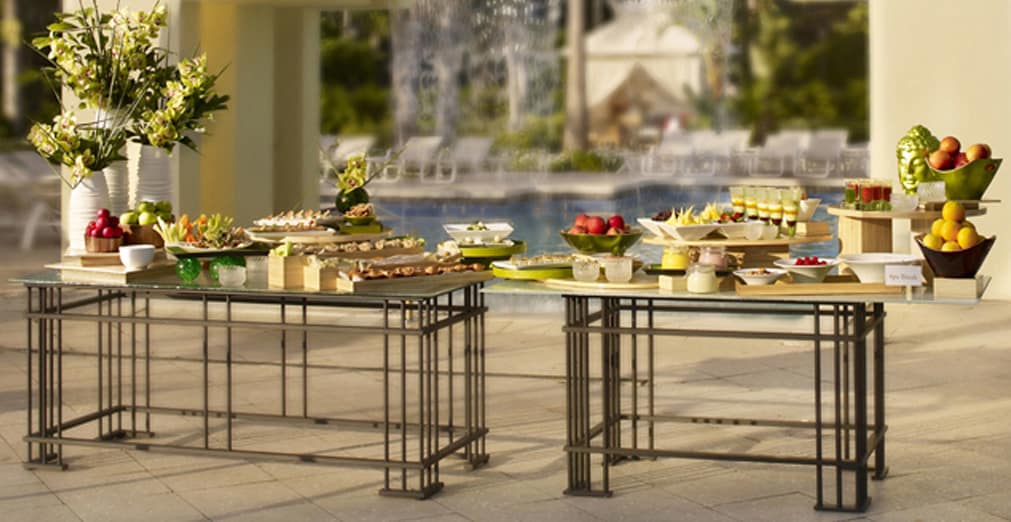 We pride ourselves in offering stunning and durable table frames, with a variety of tabletop options to go with each. Textured glass, solid wood and beautiful quartz tops are available in any shape and size. You're sure to find something that will look perfect on top of your Isinglass table frame! Isinglass Aries table frames are so versatile and elegant; it's no wonder they are our most popular product! In this post, we'll show you how to create multiple different looks by using various tabletops on an Aries frame.
Textured Glass Tabletops
Our texted glass tabletops provide a clean, sophisticated look. Isinglass textured glass is hand-painted and incredibly durable. Our 16-hour firing process ensures that every glass piece we make will hold up within the Hospitality Industry. The unique texture on our glass prevents fingerprints from showing, which is another plus. We offer several different colors of textured glass, to provide a unique look for any event and venue. 
Solid Wood Tabletops
Our handcrafted solid cherry wood tops offer a refined look that warms up a room instantly. Choose from two different finishes; distressed and smooth, as well as five different color options. If you're looking for a look that is beautiful, natural and sturdy, then look no further than Isinglass solid wood tabletops. 
Quartz Tabletops
Our Cambria Quartz tops are the epitome of brawn and beauty. Quartz has renowned performance in the toughest environments; perfect for office spaces, bar areas, lounges, hotel restaurants, lobbies and meeting spaces. Choose from our wide variety of quartz colors and patterns and add a superior touch of elegance to any space.

Isinglass makes it easy for you to create several different looks within several different areas, using the same table frame and different tabletops! Discover today what others are talking about. 
Inspired. Innovated. Isinglass.